Mark 1:35-39
A Preaching Tour in Galilee
"In the morning, while it was still very dark, he got up and went out to a deserted place, and there he prayed. And Simon and his companions hunted for him. When they found him, they said to him, "Everyone is searching for you." He answered, "Let us go on to the neighboring towns, so that I may proclaim the message there also; for that is what I came out to do." And he went throughout Galilee, proclaiming the message in their synagogues and casting out demons."
---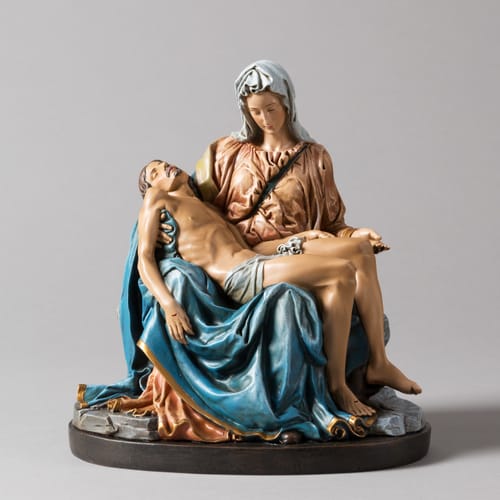 In the church of my childhood, there was a statue of the Pieta. You may recognize the Pieta as a famous statue by Michelangelo that is on display at St. Peter's Basilica at the Vatican in Rome. The Pieta actually predates Michelangelo's version and is a common theme of Christian art. The sculpture is of a grief-stricken Mary, holding the deceased body of her son. The image depicts the tragic results of the Cross.
Perhaps it was just the context of my broken childhood, or maybe it was a lack of exposure to art, but I was transfixed by this statue. I felt so badly for Mary. I felt so responsible for Jesus' death. I was a pretty miserable kid, who was regularly told that my behavior was subpar (which it was). The church's message to everyone, which I easily assimilated, was that it was our sin that put Jesus on the Cross. Seeing him lying there, in the arms of his grieving mother, was heartbreaking for me.
Noted author on compassion, Joyce Rupp, makes the point that all compassion comes from an ability to understand the suffering of another. While one could argue that the church's role in promoting guilt has been problematic, I feel blessed that God's Word, through art, grew me in my ability to know compassion.
I believe that compassion is contagious. This Lent we will come to a more complete understanding of this season – it is less about guilt and more about God's compassion for each of us through the life, death and resurrection of Jesus.
God has compassion for you. How can you experience it? How can you share compassion with the world?
Written by Pastor Greg Bouvier
Pastor Greg heard God's call to Sheridan in 1999 and that began a journey which has become his life's work. Having played a variety of roles as pastor of Sheridan, Pastor Greg was called as the Senior Pastor in 2011. He now leads the staff and his primary focus is on the creation of culture, the overall direction of worship and partnering with our amazing team.
Pastor Greg has been married to Rose for more than 30 years and together they have two servant-hearted grown children.
Social Share